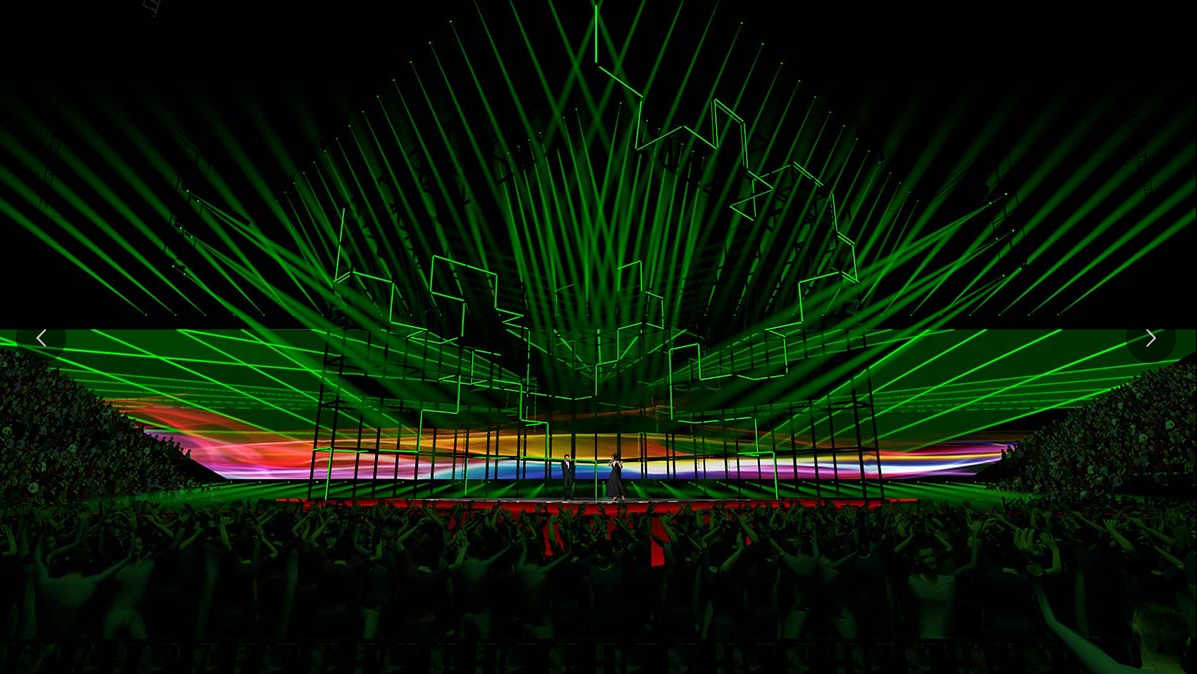 In 2014 Eurovision I was approached by Nicoline Refsing to produce renders and visualisations for her as she was the creative director for the video screens for Eurovision in Copenhagen. I was also to create some video pieces for the 3d LED cubus that was a feature of the set.
We decided we needed a realtime 3d visualiser (see video at bottom of the page) to best be able to critique the renders, after trying out what was on the market, I decided to create a visualiser myself so we could have extras such as reflections, lights and pyros.
for a comparison to d3/Disguise, the market leader at the time, here is one of their previz videos
Working closely with Nicoline Refsing I was asked to provide custom content to link in with the set design and the category backgrounds for this years National Movie Awards at Wembley arena.
We had a lot of fun with the peacock theme.

Commissioned to provide a custom media server, content and to programme the HOG2 controlling video for the show. The party was held outside Buckingham Palace in the Mall and linked up live to the closing ceremony for the Olympic Games in China.
Commissioned to create visuals onsite for the various LED screens on the Vodafone Awards 2008 for artists such as Estelle, Glasvegas, The Pussy Cat Dolls and Primal Scream

For the first series of Dancing on Ice I was commissioned provided onsite content creation for the ice projections and the LED fixtures in the ice crystal set.
The lighting team won a Royal Television Society Award for Lighting, Photography and Camera - Lighting for Multicamera
Tom Kinane and Svend Pedersen Dancing On Ice ITV Productions - Factual for ITV1
"The winner's original approach achieved what is probably a visual first for British television. A daring and stunning visualisation on a canvas of ice."
For the first 3 series of Xfactor I was commissioned to create onsite custom video content, from logos, to LED mapping content to per song screen content, and in the 3rd year I programmed and supplied a custom built and programmed media server to run some of the LED lighting fixtures.